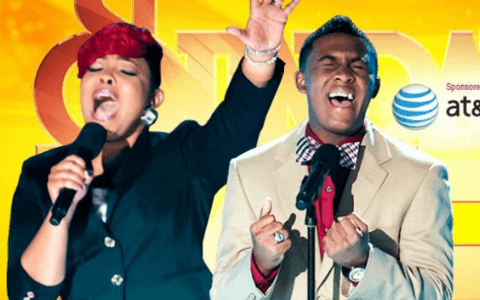 Last night Joshua Rogers was crowned Season 5's Sunday Best winner. As if that wasn't reason enough to be excited, He is also the first Male to ever win the title.
I don't know what it was about this season, but it had me sucked in from start to finish. I felt the anointing from both finalist, Joshua Rogers as well as Alexis Spight. I stand in agreeance with Yolanda Adams, Joshua will bring a lot of the younger generation to Christ. God is using him in a mighty big way.
Before the winner was crowned, viewers were treated to star-studded performances as well as outstanding performances by Rogers and fellow finalist, Alexis Spight. The first of the back to back episodes featured an opening performance by The Kings Men (Kirk Franklin, Marvin Sapp, Donnie McClurkin and Israel Houghton) doing a medley of remixes of their hits including "Smile," "Ooh Child," "Stand," "I Am a Friend of God," and "The Best in Me."
There were also performances by Kurt Carr ("In the Sanctuary/"Peace and Favor") Marvin Winans ("Draw Me Close/ Thy Will Be Done") and Yolanda Adams ("Living Proof"). The audience got to hear the final two as Joshua Rogers sang "Rain of Us" and Alexis Spight sang a modernized version of "Power in the Blood."
Tye Tribett opened the finale with an energetic performance followed by Ledisi singing "The Ladder." Alexis Spight sang "The Great I Am" while Joshua Rogers delivered "I'm Still Standing." When asked for final words for the contestants, Donnie McClurkin said "I want to do something different." Along with Yolanda Adams and CeCe Winans, they sang the refrain,"Only What You Do For Christ Will Last."
Just before the winner was announced Kim Burrell joined Joshua Rogers and Alexis Spight to sing "Wake Up Everybody." Once the winner was crowned social media was abuzz with congratulations to Joshua well as kudos for an amazing job to Alexis.
Congrats Joshua!