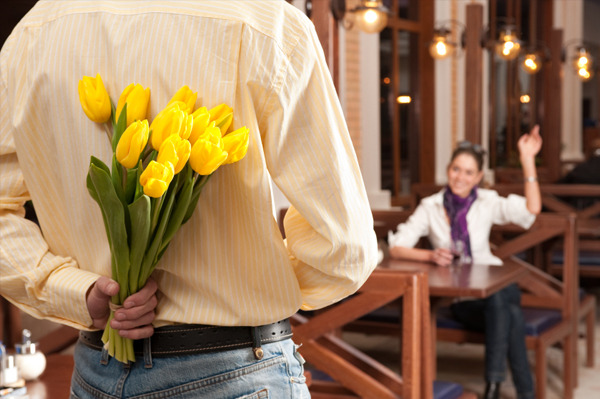 You never know what to expect in the dating game. It has it's ups and downs, it's challenges and it's rewards. I have been blessed though. No, I have not found that special one yet, but I won't complain. I've dated a few guys (nothing serious) and although romantic relationships weren't in God's plan for us, we remained friends. One of which is my best friend. How cool is that?
Whether you're single and ready to mingle or taking a break from the dating scene, there's a lesson to be learned.
Here's what I've learned as a single woman:
1. Leave a man for God, but never leave God for a man.
2. Never be reckless with someone else's heart, and never tolerate those who are reckless with yours.
3. The man God has for you, will wait for you!
4. Being single doesn't always mean lonely, just as being in a relationship doesn't always mean happy.
5. Some people get into relationships with only one focus: THEMSELVES.
6. A man without God, is a man I can live without.
7. Bad relationships can make us better or bitter. Trusting God makes all the difference.
8. Don't pass up a good man, looking for a perfect man. Because you'll never find him.
9. A relationship works best when God is the heart of it.
10. A man's love shouldn't be determined by how often he pays for you, but how often he PRAYS for you!
11. Sometimes we get so comfortable in our relationships that we forget the things it takes to keep them.
12. Forgiveness is not for them, it's for you.
13. Forgiving someone doesn't mean you have to stick around.
14. NEVER recycle relationships that need to be replaced.
15. Pay attention to red flags.
16. You can't change anyone. The only thing you can do is pray for them, wish them well, and let God do the changing.
17. I was looking for someone to fill a void that only God could fill.
18. Never make your happiness someone else's responsibility.
19. Love everybody, But it's okay to love some people from a distance.
20. Take time to heal. Don't expect your next relationship to heal you. You owe it to yourself, yourself future spouse, and God!
21. The right relationship won't distract you from God. It will bring you closer to Him.
22. Sometimes a relationship with God is all you have. When all else fails, God never will!
23. A relationship with God is the most important relationship you can have. Put God first and other worthwhile relationships will follow.
24. The problems you get comfortable dealing with while dating, will be the same problems you get comfortable dealing with while married.
25. Everything that feels good to us, is not always good for us.
26. Break ups aren't always meant for make ups. Sometimes relationships end in order for us to wake up!
27. Don't allow failed relationships to cause you to give up on love.
28. The walls we build to protect us from heartache, can quickly become the walls that deprive us from love.
29. When it comes to your Christian walk, Never let the hand you hold, hold you back.
30. You know you're in a bad relationship if you have to be miserable, in order to make someone else happy!
31. The grass is not always greener on the other side.
32. Closed mouths don't get fed. Speak up for what you want and what you believe in.
33. The truth comes out eventually. If you tell the truth, you'll never have to remember what you said because the truth never changes.
34. Money can't buy happiness …or love. If you have to bribe someone into loving you, they're not the one for you.
35. If God closes a door, stop banging on it. Because sometimes rejection is His protection.
36. For some people, "Im Sorry" really means "I'm sorry you found out". Forgive them even if they are not sorry.
37. Letting go is hard, but sometimes necessary. Not everyone is meant to stay in your life forever.
38. Love means praying for them even when you're mad at them.
39. Don't look for someone to complete you. You are already complete in Him
40. Being married won't heal me and being single won't kill me. Waiting on God is never a waste of time!
41. Being single doesn't mean you're available. Sometimes you have to put up a sign that says "Do not disturb. God is working on my heart."
42. Some people can hear you speak a thousand words and still not understand you, but God understands you, without you speaking a single word.
43. Sometimes the person we want to be with the most, is the same person God wants us to be without.
44. Sometimes loneliness is a sign that we're placing too much focus on him instead of HIM!
45. Finding love isn't worth it, If you have to lose yourself in the process! Find God and love will find you!
46. Choose a man who chooses God over you!
47. We don't meet people by accident. They are meant to cross our path for a reason. Whether it's for a lifetime or just for a season.
48. Sometimes we try to hold on to people for a lifetime, when God put them in our life for only a season.
49. Some things we desire for ourselves are in reason, but not in season. Respect God's "not now.
50. Don't rush it. When the timing is right, God will make it happen!
51. When it comes to dating, I have one rule: Don't date someone I can't see myself marrying.
52. If you're constantly trying to force what is not meant to be, What is meant to be, may never be.
53. Never submit to a man who is not submitted to God.
54. Get close to God first, before getting close to a man. God without man is still God. A man without God is NOTHING!
55. God often removes people from our lives because we become too dependent on them instead of Him!
56. You may be trash according to him, but you are Priceless according to Him.
57. The best way to heal a broken heart, is to give God all the pieces.
58. Growing in Christ sometimes means giving people a piece of your heart when you really want to give them a piece of your mind.
59. The only one who can truly satisfy your heart is the one who made it.
60. There is something so beautiful about a person whose heart has been broken, but still believes in love.
61. Not everyone will love you as much as you love them, but no one will love you as much as God loves you!
62. You can't make someone love you.
63. There's a special place in my heart that only HE can fill. Can't nobody love me like Jesus!
64. Don't force it. What is meant to be, will always be.
65. Never allow someone's opinion of you, make you or break you.
66. Sometimes intuition is God's way of speaking to us. When u feel in your heart that something's wrong, it usually is!
67. There's often more to a person than the eye can see. Don't let a judgmental heart, keep you from a blessing.
68. Sometimes you have to part ways with certain people. If they're meant to be in your life, God will place them in your path again.
69. We often make it hard for ourselves to be happy, because we find it hard to let go of people that make us sad!
70. One of the hardest decisions we'll ever have to make, is whether to walk away or stay and fight.
71. The hardest part of believing that everything happens for a reason, is waiting for that reason to come along.
72. Don't set a time limit on love. Love works on God's time, and God is always on time!
73. Sometimes we know the right thing to do, But the hard part is doing it.
74. Revenge may seem like a good idea for a moment, but no one can avenge me like God.
75. Sometimes the best revenge is just moving on. Don't give someone the satisfaction of seeing you suffer.
76. Be mindful not to build a pedestal no one can reach.
77. Sometimes taking our own advice is the hardest thing to do, but God always knows how to get our attention.
78. Sometimes the people we try so hard to hold on to, are the main people God is trying to deliver us from.
79. There comes a time in your life when you must decide whether to go to the next page or just close the chapter.
80. You know you're in a good place when you can laugh about things that once made you cry.
81. Even if you're in the right place at the right time, you can still miss your blessing if you're not in the right frame of mind.
82. If I was happy before God placed them in my life, I can be happy after God removes them from my life.
83. Remember the golden rule: "Treat others the way you want to be treated".
84. When people show you who they are, believe them.
85. Bless those who walk away from you. They are making room for those who won't!
86. Stay on a positive path and God will allow the right one to join you.
87. God has a way of separating us from certain people. It's better to let them walk away from you, than to let them walk all over you.
88. Getting the last word doesn't make you the bigger person. Sometimes you have to walk away to be the bigger person.
89. Not everyone you lose is a loss.
90. If God is not your priority, nothing you put before Him will ever last!
91. Don't allow hurt and bitterness to turn you into someone God never intended for you to be.
92. When couples love God first, they love each other better.
93. You can be a good woman… but if he's not ready, he will never realize just how good of a woman you are.
94. Sometimes we don't realize that we have the power to block our own blessings by holding on to the past. Let Go & Let God work.
95. Never let a bad relationship bring out the bad in you. Choose to do good and God will show you just how good He is!
96. It hurts to let go of someone you've had for so long. It hurts even more to hold on, knowing there's nothing there.
97. When you finally let go of the past, someone better comes along.
98. Don't settle for being someone's in the meantime, part-time, or some of the time.
99. God doesn't make mistakes. So trust that when someone ends up in your past, they're there for a reason.
100. Above all else, guard your heart, for everything you do flows from it. (Proverbs 4:23)