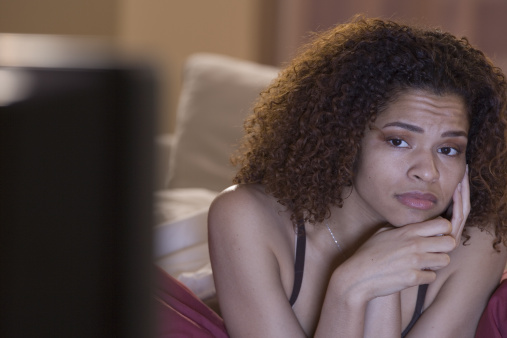 Depression drains your energy, hope, and drive, making it difficult to do what you need to feel better. But while overcoming depression isn't quick or easy, it's far from impossible. You can't beat it through sheer willpower, but you do have some control—even if your depression is severe and stubbornly persistent. The key is to start small and build from there. Feeling better takes time, but you can get there if you make positive choices for yourself each day.
These are the signs that a bout of depression is looming:
♥ Increased negative thoughts.
♥ Increased thoughts of self-doubt and judgment. Feelings of hopelessness and helplessness
♥ Thoughts of suicide or harming yourself.
♥ Wanting to scarf carbs and comfort food like they are going out of style.
♥ Uncontrollable and unpredictable crying.
♥ Unable to sleep at night.
♥ Desire to withdraw all social contact.
Recovering from depression requires action, but taking action when you're depressed is hard. In fact, just thinking about the things you should do to feel better, like going for a walk or spending time with friends, can be exhausting.
It's the Catch-22 of depression recovery: The things that help the most are the things that are the most difficult to do. There's a difference, however, between something that's difficult and something that's impossible.
Try to keep up with social activities even if you don't feel like it. Often when you're depressed, it feels more comfortable to retreat into your shell, but being around other people will make you feel less depressed.
The thought of reaching out to even close family members and friends can seem overwhelming. You may feel ashamed, too exhausted to talk, or guilty for neglecting the relationship. Remind yourself that this is the depression talking. Reaching out is not a sign of weakness and it won't mean you're a burden to others. Your loved ones care about you and want to help. And remember, it's never too late to build new friendships and improve your support network.
Join a support group for depression. Being with others dealing with depression can go a long way in reducing your sense of isolation. You can also encourage each other, give and receive advice on how to cope, and share your experiences.
In order to overcome depression, you have to take care of yourself. This includes following a healthy lifestyle, learning to manage stress, setting limits on what you're able to do, adopting healthy habits, and scheduling fun activities into your day.
Aim for eight hours of sleep. Depression typically involves sleep problems. Whether you're sleeping too little or too much, your mood suffers. Get on a better sleep schedule by learning healthy sleep habits.
Expose yourself to a little sunlight every day. Lack of sunlight can make depression worse. Make sure you're getting enough. Take a short walk outdoors, have your coffee outside, enjoy an al fresco meal, people-watch on a park bench, or sit out in the garden. Aim for at least 15 minutes of sunlight a day to boost your mood. If you live somewhere with little winter sunshine, try using a light therapy box.
Exercise. When you're depressed, exercising may be the last thing you feel like doing. But exercise is a powerful tool for dealing with depression. In fact, studies show that regular exercise can be as effective as antidepressant medication at increasing energy levels and decreasing feelings of fatigue.
Scientists haven't figured out exactly why exercise is such a potent antidepressant, but evidence suggests that physical activity triggers new cell growth in the brain, increases mood-enhancing neurotransmitters and endorphins, reduces stress, and relieves muscle tension—all things that can have a positive effect on depression.
Watch your diet. What you eat has a direct impact on the way you feel. Aim for a balanced diet of low-fat protein, complex carbohydrates, fruits and vegetables. Reduce your intake of foods that can adversely affect your brain and mood, such as caffeine, alcohol, trans fats, saturated fats, and foods with high levels of chemical preservatives or hormones (such as certain meats).
Don't skip meals. Going too long between meals can make you feel irritable and tired, so aim to eat something at least every three to four hours.
Minimize sugar and refined carbs. You may crave sugary snacks, baked goods, or comfort foods such as pasta or French fries, but these "feel-good" foods quickly lead to a crash in mood and energy.
Focus on complex carbohydrates. Foods such as baked potatoes, whole-wheat pasta, oatmeal, and whole grain breads can boost serotonin levels without a crash.
Boost your B vitamins. Deficiencies in B vitamins such as folic acid and B-12 can trigger depression. To get more, take a B-complex vitamin supplement or eat more citrus fruit, leafy greens, beans, chicken, and eggs.
Try super-foods rich in nutrients that can boost mood, such as bananas (magnesium to decrease anxiety, vitamin B6 to promote alertness, tryptophan to boost feel-good serotonin levels), brown rice (serotonin, thiamine to support sociability), and spinach (magnesium, folate to reduce agitation and improve sleep).
Consider taking a chromium supplement. Some depression studies show that chromium picolinate reduces carbohydrate cravings, eases mood swings, and boosts energy. Supplementing with chromium picolinate is especially effective for people who tend to overeat and oversleep when depressed.
If you find your depression getting worse and worse, seek professional help. Needing additional help doesn't mean you're weak. Sometimes the negative thinking in depression can make you feel like you're a lost cause, but depression can be treated and you can feel better!