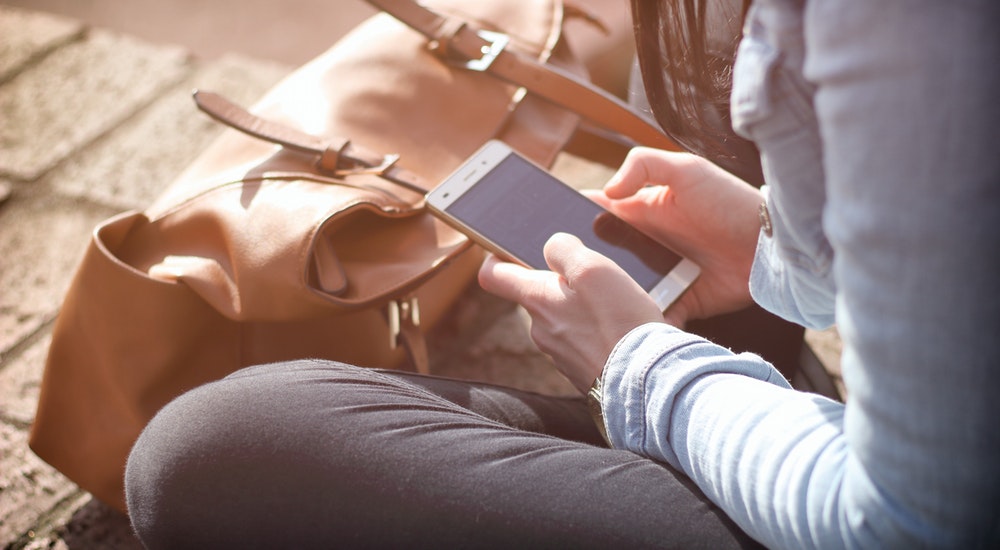 Smartphones are designed to help us keep in contact with the people we love the most— our friends and family.
But this small device can potentially also help us be closer to an even greater love: God.
There are several apps on the market for both Android and Apple devices that will help you study scripture, pray more often, and live out your faith. Here are some of our favorites.
15 Best Christian Apps :
Are you looking for a clean movie streaming alternative? This is the app for you.
The Pure Flix app provides a family friendly alternative to the usual Hollywood content available on other streaming services.
Avoid all the inappropriate content with Pure Flix's wide selection of Christian and family movies.
Find it on iPad, iPhone, Android, Roku, Chromecast, Amazon Fire TV, and Apple TV.
In a nutshell, Not Just Words is a thesaurus-ran Bible search app that helps you locate scriptures and verses within in the Bible when you're having trouble.
All you have to do is plug in a few key words in the search tool and the app will point you in the right direction.
This Christian app not only educates on Bible verses and chapters, but helps you memorize them! You can create flashcards, quizzes, and highlight verses to help commit them to memory and enhance your relationship with God.
Best Devotional Apps
The Our Daily Bread devotional app is read by millions of people around the world and encourages people to spend time with God every day.
Join the the Daily Bread community in growing closer to Christ. Daily readings are available in many languages.
Daily Devotion, as you can tell from the title, includes a daily devotional. Some of these are quick and some are a bit longer.
Having devotionals in an app make it quick and easy to wake up in the morning and begin with a devotional.
Make this app a part of your routine. You won't regret it.
This free app allows women around the world to read the Bible together.
It provides a community of encouragement anytime. It allows women to help each other stay strong and follow the Gospel in everyday life.
The app has several fun features like beautiful images for sharing content, notifications, a camera with photo overlays, journaling, bookmarking, and real-time commenting.
Find it on iPad, iPhone, Android, and Kindle Fire.
Best Prayer Apps
Echo lets you keep a list of every single one of your prayers.
You can add as many prayers as you want, organize them into groups, delete old prayers, and even mark prayers as answered so you can see how God is working (and remember to thank Him!).
Ever told a dear friend or family member that you'd pray for him or her, but because of the busyness of everyday life you forgot?
It happens to the best of us, but there is a convenient way to remember all of the daily prayers you want to make.
Prayer Notebook is an iPhone app that allows you to set daily reminders so you can make all the prayers you intend to.
It also synchs with email and social media, so you can send a quick message telling a friend that you just finished paying for him or her. All prayers are password protected.
This useful app allows you to keep track of prayer requests. You enter the names of people you plan to pray for, and the app pops up index cards each day to remind you.
You can easily organize the time and way you pray, and you can subscribe to online prayer diaries from your church.
It includes a reminder clock, photo attachment, and a downloadable prayer gallery. Find it on iPad, iPhone, Android, and Kindle Fire.
Best Christian Dating Apps
Crosspaths is also new to the best Christian apps scene, and its creators are conveniently also the founders of Christian Mingle, the world's largest Christian dating site.
This app has you take a short quiz at the beginning to describe your faith and ideal traits in a partner.
From there, you are matched with those who fit your description, and you can choose to chat with any of them.
Speaking of Christian Mingle, the website has created its own app for those who prefer the traditional interface.
This app boasts many users, with a high chance of finding someone you would be excited to go out on a date with.
This relatively new Christian dating app features a Tinder-style swipe platform that allows you to match up with a fellow user.
However, unlike Tinder, Collide does not show any personal information (i.e. a small bio, likes and dislikes, etc.) until you and your match engage in a private chat.
Best Bible Apps
This app is free, for both iPhone and Android, and is one of the most interactive Christian apps on the market.
Olive Tree lets you highlight, bookmark, and save chapters and Bible verses right in the app.
This free Bible app allows you to read the Bible in any of 90 different translations and listen to the Bible in several different languages.
It works on or offline. It has search tools, daily Bible Verses, reading plans, and Bible commentaries. You can take notes, highlight text, and bookmark your favorite verses.
The app also allows you to share verses on Facebook and Twitter. Find it on iPad, iPhone, Android, and Kindle Fire.
15. Bible (YouVersion)
The app simply called "Bible" is a fantastic free Bible app.
You'll have access to most of the popular translations and have them available for offline reading.
The Bible is the cornerstone of any believer's life. But, if this app doesn't do it for you, there are literally hundreds of other options.
Using apps to help enrich one's faith is an important aspect of growing within the Christian practice.
We hope you have found this list helpful and can now enjoy a new Christian app or two. What are some of the best Christian apps you have come across? We would love to hear from you in the comments!
Up next, a few of our favorite Christian blogs and resources…
Bonus: Best Christian Blogs and Resources
I Need A Word is a video blog that was started in the summer of 2017 by Quonda Renee.
Quonda Renee is a woman who loves God and is grounded by her faith. When she first started I Need A Word she was going through a rough season in her life and decided to encourage others.
She never intended for I Need a Word to grow so big so fast with the first day of creating the page she saw a significant amount of people liking and following the Facebook page and she noticed a hunger for God's Word throughout the lives of people all over the world.
Quonda wanted to give hope by posting clips of inspiration videos that people could watch and share all over social media.
ShareFaith has been around for over 15 years.
It is a resource that helps churches globally in expanding their outreach.
They do this by creating cutting-edge media and technology resources that equip the entire ministry team and all ministry platforms to serve and teach with excellence.
This is a Christian blog owned by author, motivational speaker, actress, Christian evangelist- Priscilla Shirer.
Her father is Dallas mega-church pastor Tony Evans and her brother is Christian entertainer Anthony Evans.
She is probably best known for her role in the movie 'War Room'.