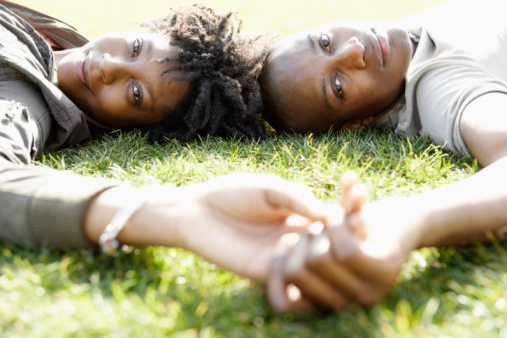 Many times as Christians we are told to ask vigorously what we want/need and it shall be given to us. Many times we are encouraged to wait and be patient for the one who has been promised to us from God. However, how comfortable are you with the possibility that you're never going to get married? Are you fine with just you and God being that perfect physical relationship you earnestly pray for? What if it is God's will for you to live a life of singleness? – look at your heart… Does this question not make you wonder whether you are in it (Christian) for the good things (Godly husband) or because God truly is the one and only reason? God looks at your heart when you ask Him for something. He observes to see whether it is for own personal gain or for love. This is why it's so important to be content in all circumstances.
When praying remember to know the difference between these two: Lust is the desire to please self, at the expense of someone else, because lust wants to get. And love is the desire to please and bless SOMEONE else because love wants to give. (1 John 4:9). You desire a Godly man but are you the Godly woman that man deserves? You're praying for a Godly man but do you worship God with your life? You dream of a prayerful man but are you on your knees waiting and praying for him? Are you locking eyes with God in preparation for him? Don't expect to attract what you're not. Be the type of person you want to meet. Spiritually single. (1 Peter 1:15)
Stop idolising marriage and stop idolising your future husband, rather be content with where you are. It is probably one of the hardest mental battles we have to deal with and it isn't easy (just pick up that cross, humble yourself). Always remember our God is a loving God and His timing is perfectly in tune with the season we're going through and how we handle it determines its length but ladies you need to see the beauty in it: – God is in every season we go through (2 Timothy 4:2). What can be more beautiful?
With that said, waiting for your Boaz does not mean you sitting and physically waiting but instead you getting up and actually working (on yourself) – not for your future husband but for God (1 Colossians 3:23). That's where patience comes in. You're not patient by sitting around and doing nothing, instead stand up and do something. I trust that until we are properly grounded in God, fully satisfied, with a pure heart and our hope is completely and utterly in God will He present our Boaz.
Always see the blessing where you might not ever have thought it could be a blessing. Love and let yourself be loved. Smile. Shine, you have the light in you. Preach, it teaches you how to always speak positively and speak life. Lastly, remember your identity in Jesus Christ – you were fearfully and wonderfully made; in His Image.