Corsages and boutonnieres are usually the key accessories to jazz-up your pristine prom attire. But for a group of seniors last weekend in Woodridge, Virginia, surgical masks were the ticket.
"We just wore them so he wasn't alone," Emily Jarrell, 18, told ABC News of her longtime boyfriend, Jared Hill.
Hill, 18, has been battling testicular cancer since last September. His chemotherapy treatments have weakened his immune system to that of a 2-year-old's, which means when he's in large public spaces, wearing a surgical mask is necessary to avoid exposure to germs.
Obviously Jarrell's prom was one of those circumstances, just as it was the week prior when the two attended Hill's prom for his high school. This time around, however, the happy couple wouldn't be the only two donning the masks.
"I was talking to my friend Deanna one day about it during class, saying that he and I wore the masks to his prom and she said, 'Wow that's so cool, we should get our whole group to wear them,'" Jarrell recalled.
It wasn't long before all off Jarrell's friends were on board with the idea.
On prom night, May 3, after having dinner and getting ready to dance the night away, they surprised Hill with a big box of surgical masks – their clever fashion statement in support of all he's been through this past year.
"As soon as they came down the stairs with the box of masks I was like, 'Are you guys serious, like really?,'" said Hill. "I don't really hang out with her friends that often, but it showed they really cared about me. They don't even know me that well and they went out on this limb for me."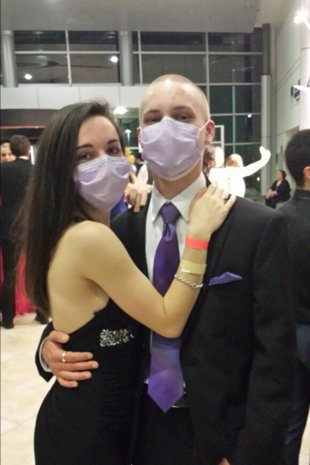 A photo of the handsome bunch, 18 prom-ready pals, standing outside sporting their brightly colored dresses, formal tuxes and snazzy surgical masks quickly went viral as word spread of the students' creative way of showing their support.
"Everyone is really just surprised that a group of teens would do that," Jarrell said of the reaction they've received. "They're saying it is providing hope and it's inspiring them and it just warms their hearts. But none of us were expecting all this attention. We just didn't want him to feel alone." And he wasn't – which Hill is eternally grateful for.
"For them to be behind my back, I think that's awesome," he said. "Not many people do that kind of stuff anymore."
Although Hill completed his last chemotherapy treatment the day before his birthday, on Feb. 28, his battle isn't quite over.
"They want me to go back for checkups and there's two more markers they're going to pay attention to," he explained. "My levels fluctuate a little bit so they're just keeping their eye on that."
As for his girlfriend who has stood by his side this entire time, though, "It's been a real big help," said Hill. "She's been so supportive. She's really helped me and kept me in high spirits."
source