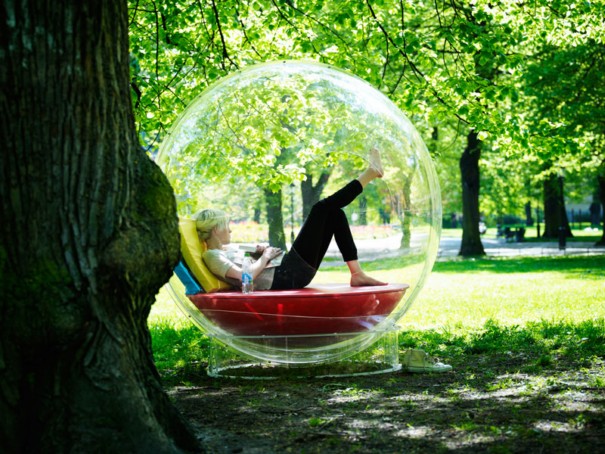 Cocoon 1 by micasa lab, the first furniture you can live in! Totally futuresque, livable and hipsterish. Cocoon 1 is a very special place of retreat. The innovative product magically connects aesthetics and fuction. Its insularity provides protection and selusion. At the same time, its translugency enables us to let our thoughts wander whilst simultaneously allowing us to join in with life "outside".
By adding different modules, the functions of the Cocoon 1 can be changed, for example adding sleeping modules or storage modules. The variety of modules and therefore functions is vast, there are even modules designed to enable basic cooking inside the Cocoon 1. Batteries not only allow the stove to operate, but also power Wi-Fi and the media module. It is spacious enough to create a room, but not so large that it will not fit into one. The Cocoon 1 comes with a set of attachments offering a variety of placing – be it on the floor, elevated or attached to the ceiling.
The Cocoon 1 is completely transparent and measures 180 cm in diameter.
An addition is the net. When using the Cocoon 1 outdoors, the net enables the Cocoon 1 to be hung in trees, on buildings or even as a cluster of other Cocoons.
The sturdy nylon net enables the user to relax in total solitude, gently swinging in a location of choice.