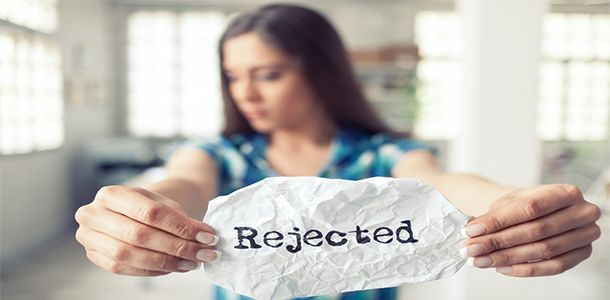 Feeling rejected? We've all been there. Some of us more than others but the great thing about rejection is that there are endless possibilities that you can venture to.
I recently, was forced to acknowledge something about myself which I've been in denial about my whole life; I HATE REJECTION!
I was visiting a friend at her home. I spot the invitation plastered on my friend's fridge. The names of my two friends are printed in elegant script, with a "Save the Date" magnet hanging below. Yet another wedding I wasn't invited to.
Why wasn't I invited? What did I do wrong? I begin to think, tallying all the ways I should blame myself. Did I offend her in some way? Am I not adventurous enough? Does she think I'm too serious? I cycle through the possibilities, not knowing which is worse: Is this intentional, or did they just forget?
Later, I scroll through all the photos online, with all the people I know smiling together—and I'm left alone looking at a computer screen. I just can't help but feel like this is somehow my fault.
Have you ever felt this pain of rejection?
Maybe you weren't invited to a special event you were looking forward to. Or coworkers met for a meal without you. Maybe a small group of friends forgot to include you in an impromptu weekend outing. Maybe it's something less tangible—a friendship that slowly faded away despite your efforts to re-connect.
It's easy to burrow inward when this happens, to fixate on all the things you shouldn't have said or could have done better. You end up feeling like you deserved to be left out, rejected, forgotten.
But you are not forgotten. You are loved. You are wanted.
God accepts you no matter what. Jesus says, "I will never turn away anyone who comes to me." (John 6:37) He actively loves you regardless of what you do.
When you feel rejected or like an outsider, be reminded of how God accepts you.
Don't allow rejection to take over your life without a fight.
The reality of life is that rejection will form a part of it. There will be occasions when your job application, your relationship, or your ideas will be rejected by someone, somewhere.
When you're hurting, it can can be difficult to see rejection as a part of life and to acknowledge that what really matters is finding a way to bounce back and try again.
Here are five comebacks for rejection that you can use in just about any situation:
"Life Goes On."
Look at the birds of the air: they neither sow nor reap nor gather into barns, and yet your heavenly Father feeds them. Are you not of more value than they? – Matthew 6:26
Whether it's a bad break-up or a job you didn't land, always remember that life goes on. There will be another relationship, another job, and whatever else you were rejected. Most successful people are successful because they didn't allow rejection to halt their dreams.
"You deserve better"
Know that the Lord, he is God! It is he who made us, and we are his; we are his people, and the sheep of his pasture. – Psalm 100:3
While love rejection can be difficult to handle, always remember that your destiny is never tied to someone who walks away from you. Bless those who walk away from you. They are making room for the one who won't.
A broken heart can always be mended, it just takes time. Remember that.
"God Knows Best"
For my thoughts are not your thoughts, neither are your ways my ways, declares the Lord. For as the heavens are higher than the earth, so are my ways higher than your ways and my thoughts than your thoughts. – Isaiah 55:8-9
Even when things don't happen the way you expect them to, don't be afraid of taking chances and getting rejected. The bottom line is this…"When God intends it, nothing will prevent it".
So with that being said, either it was never meant to be or it just wasn't the right time.
"You Live and Learn."
Even as he chose us in him before the foundation of the world, that we should be holy and blameless before him. In love. – Ephesians 1:4
When we feel rejected, we trap ourselves in a moment of doubt and distress. But we must learn to see past the fleeting period of pain and acknowledge that there is a higher purpose to not getting what (or whom) we want. That higher purpose is usually revealed in time.
"Sometimes Rejection is God's Protection"
See what kind of love the Father has given to us, that we should be called children of God; and so we are. The reason why the world does not know us is that it did not know him. – 1 John 3:1
From this day forward, if you experience rejection, the first question to ask before spiraling down into the dark abyss of confusion, self criticism, and suffering is: How is this rejection protecting me?
God sees what we can't see and Sometimes Rejection is God's Protection!