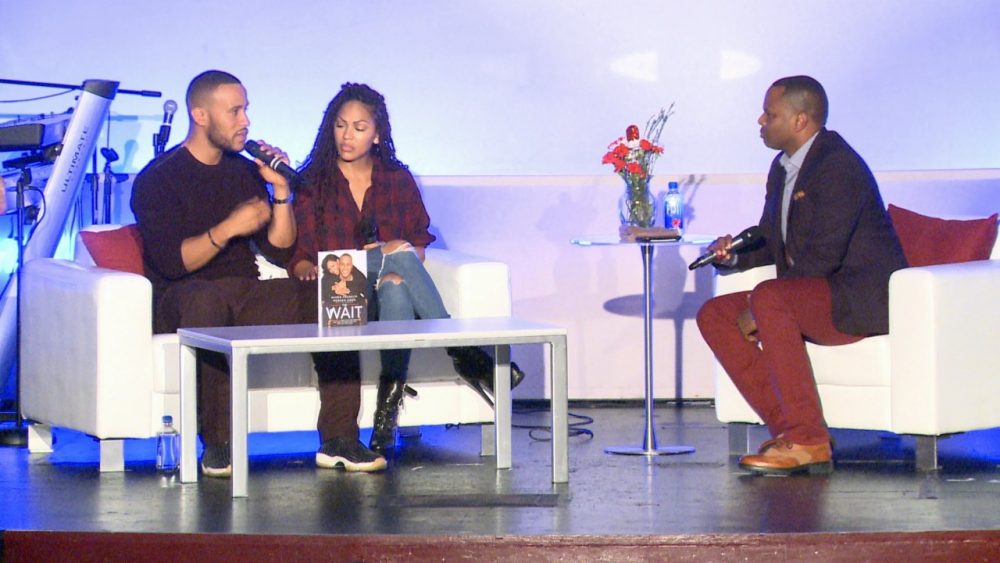 I'm sure by now most of you have come across the video of Pastor, DeVon Franklin and Actress/ First Lady, Meagan Good as they joined One Church L.A. for "The Wait" – Kingdom Love 2 (Valentine's Day Event).
During the event, Devon and Meagan shared their journey of celibacy prior to getting married as well as promoted their new book based off their journey ' The Wait'.
During the Q & A part of the event, one of the audience members called Meagan Good out on her lack of modesty when it comes to her choice of clothing.
"This is not offensive, but I was at the grocery store and I looked at a newsstand and saw you — and you had your breast showing," said the woman. "So, so, I wasn't gonna come here, I wasn't, but the Lord brought me here to see you. You're beautiful. You are a beautiful young woman and your testimony is awesome. It's awesome. Amen. Amen! The Lord let me come and push past the judgement, because you have to make sure what you say and what you do match up, you understand?

So, we're gonna cover up, right?
DeVon immediately came to the defense of his wife.
"Wait a minute! no! No. That is not what we're here for. She's not gonna cover up, she gone wear what she wants to wear in the name of Jesus, Amen. Amen? Amen. Yes she will! God bless you, we love you, I love you dearly but she has been as Christian as she is right now when she wore whatever she wanted to wear, so no we ain't doing that!"
He continued,
"Y'all about to see another DeVon that y'all ain't never seen! Remember, I'm from Oakland now!"
I want to point out one important thing here (and this is the whole point of this post) …
Even after the young lady broke her down to tears, Meagan Good handled the situation very classy, very respectful, and very Christian like.
A lot of times when our feelings are on the line we get defensive, angry, and go into attack mode. Sometimes the Christian thing to do, requires us to look past the delivery in order to receive the message and Meagan did that!
Meagan, we are definitely praying for you girlie.
You can watch it all unfold in the video below… The exchange takes place around the 1:08 mark.