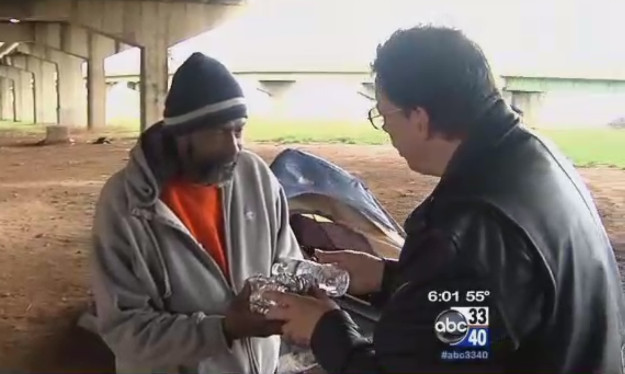 Every other Saturday Rick Wood delivers hundreds of hot dogs and bottles of water to homeless people in need. But the people who rely on Wood's generosity may soon be left empty-handed.
Wood, who is a pastor at the Lord's House of Prayer in Oneonta, Alabama, has been feeding the homeless for the past six years, without any problems. But, last month, the city told Wood that he had to stop his mission because he does not have the required $500 permit needed in order to continue helping the homeless. The permit generally applies to retailers, however Wood was told that it applies to him as well.
"I'm just so totally shocked that the city is turning their back on the homeless like this," he told ABC 33/40. "It's like they want to chase them out of the city. And the homeless can't help the position they're in. They need help."
But Wood has vowed to continue his service, like many other advocates who have faced similar bureaucratic measures.
Last December, Churches on the Street — a mobile ministry in St. Louis — was ordered to stop serving hot food to the homeless until it secured a permit, an expense that would cost the small-scale operation $150 to $300 annually, the Riverfront Times reported.
And last summer, members of Love Wins Ministries, an organization that feeds breakfast to anyone in need on weekends in Raleigh, N.C., when no soup kitchens are open, were threatened with arrests if they didn't cease their service.
Rev. Hugh Hollowell, a pastor and director at Love Wins Ministries, said he simply couldn't be deterred from helping those who are desperate for food.
"We will feed people," he wrote in a blog for HuffPost. "I am, after all (however imperfectly), a follower of Jesus, who said himself that when we ignore hungry people, we ignore Him."