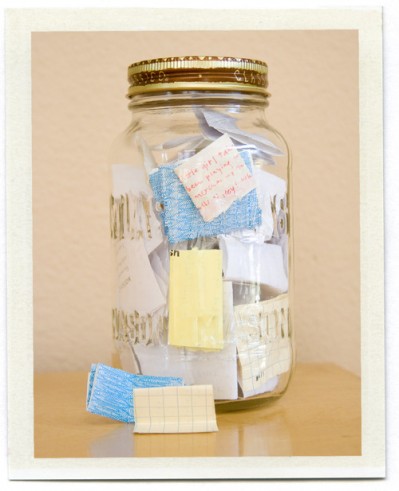 Sometimes, when things are not going our way, it's easy to lose sight of all that God has done for us. So let's make 2013 our best year yet by reflecting on God's goodness!
I posted this awesome idea a couple of months ago. A lot of you asked for a reminder as the end of the year approached. So here you go! Let's get those empty jars ready!
Starting next week, I challenge all of my readers to participate in "The Jar Of Gratitude: A Year Of Reflection". Here's how it works:
[checklist]
Start the new year with an empty jar.
Everytime something good happens, make a note of it, and place it in the jar.
On New Years Eve (2013), empty it and reminisce on all the blessings you had that year.
[/checklist]
Good way to keep things in perspective! Don't you agree? 🙂