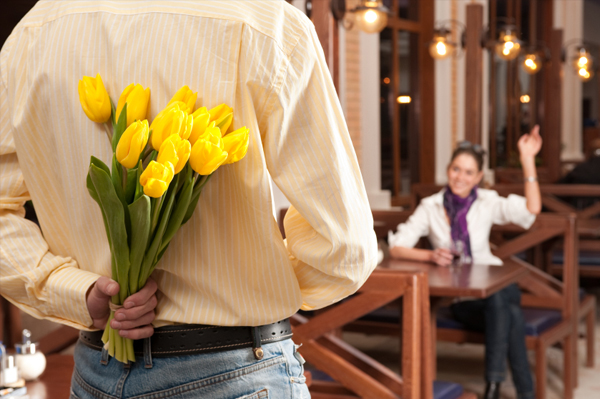 10 Cool First Date Ideas For Christian Singles…
Experts in Dating and Relationships say that the first date will tell you a lot about a person.
As a Christian, it is important to be on watch for these things to determine whether or not there should be a second date.
There are certain things that definitely should be discussed, but it's important to interact and enjoy each other's company.
A good first date allows for conversation but at the same time takes some of the focus off you so that neither of you are not feeling under pressure and tense.
We're going to forget about the ole' dinner and a movie date for right now. Don't get me wrong there's nothing wrong with dinner and a movie, but as a first date, neither of the two allows the two of you to talk and get to know each other better.
Also as a Christian, I think it's important to avoid being alone on the first date. "Come over and I'll cook for you." or "Come over and let's have movie night." Ummmm No!
Don't rush things. Take your time and get to know each other a little better.
At the very least, have a good time even if you don't necessarily make a love connection. Hopefully, you'll score both.
Here are 10 first date ideas that provide the right balance of conversation and pleasant distraction…
Bowling
Bowling is an old-school date idea with a great casual vibe. The two of you can enjoy a slice of pizza or two while engaging in a friendly competition. Just about every town has a bowling alley. It's a low-stress environment, so your date is guaranteed to feel relaxed and comfortable, which is important. If they're comfortable, they'll have more fun, and if they're having fun, chances are; there will be a second date.
Outdoors Fun
If you're the outdoorsy type… Exploring the great outdoors and getting some physical activity is a terrific first date idea, provided your date is up to the task. Tackle a rock climbing wall, Miniature golf, Horseback riding, the possibilities are endless.
Aquariums
Aquariums aren't just for fourth-grade field trips; they're also a great place for a first date. You can walk leisurely with your date as the two of you survey all of the sea life. The underwater creatures are colorful and interesting enough to keep the conversation flowing.
A Play/ Musical
The theater is another good first date idea. It's more original than a movie, plus it's a little classier. The two of you can get dressed up and enjoy yourselves. Plus, there's typically an intermission during which you'll have a chance to chat, unlike a movie, where you'll spend the entire time sitting in the dark. The theater is a good date for just about anyone. But just like a good movie, it depends on your genre preference ( romance, comedy, thriller, etc )
Picnic in the Park
A Picnic in the Park allows for you guys to enjoy each other's conversation while observing your surroundings. If you find yourself stuck in an awkward moment, it's easy to ease the awkwardness by turning the attention to something or someone else in the park. "Oh look at how adorable that baby is" or maybe even acknowledge another couple by saying something like: "They make a nice looking couple" It works every time.
Amusement Park
If you're like me, You don't mess with rollercoasters. BUT! Amusement Parks are a great first date idea because it allows you plenty of time to talk and get to know one another, laugh with each other, and see how much fun this person can really be. No one wants to be stuck with someone who doesn't want to laugh and unwind just a little bit at least some of the time. If you're not feeling the idea of a big amusement park, try going to a Fair, Carnival, or maybe even the Pier. Most piers offer the same attractions as amusement parks; rides, games, food, and fun.
Weddings
If you know someone who's getting married, maybe a co-worker, friend, or friend of a friend, invite your date. Weddings will give you an opportunity to feel them out and dig a little deeper. Now is the perfect time to ask those questions which may be a little awkward any other time. "How do you feel about marriage?", "Kids?", etc.
It's probably not a good idea to invite them if it's a family member's wedding. Family will be expecting him to be a permanent fixture in the family and may read more into it than just a first date.
Karaoke!
The icebreaker. This is one of my personal favorites. I can't sing, but I sure have fun trying. Lol Karaoke is a good way to cut the tension and come out of your shell. Your date will either have fun laughing at you or they'll feel sorry enough for you to ask you out on a second date. (just kidding). If you're a really good singer, this is a good way to show off your skills.
Church
It gives the both of you a chance to preview what they're getting in the long run. If you guys are not the same denomination, is this something either of you will be willing to adapt to or change for your mate? These are very important issues in any Christian relationship and should be addressed as early in the relationship as possible.
Arts and Crafts
There are a lot of places that offer private lessons. Learn to cook something yummy at the local culinary school, make sculptures together at a local arts & craft center, Take a dance class at a local dance studio. The point is to try something new and make a memorable first date. Hopefully the first of many to come for you guys.