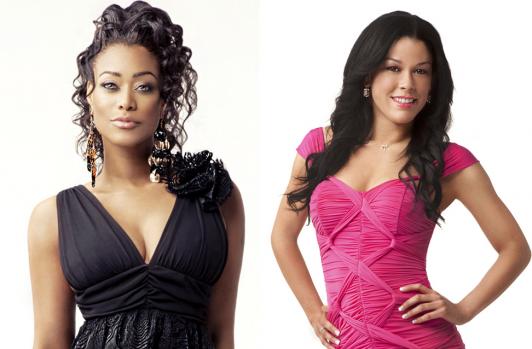 Every season, every week, I tell myself that I've had enough of these basketball wives. But somehow I find myself watching it EVERY week! Drama and all! But honestly every woman SHOULD watch it, just so they'll know how NOT to act! Last night's episode was disturbing to say the least.
Kesha Nichols considers herself a victim of bullying, but instead of feeling sorry for herself, she's expressing pity for her reality TV rival, Tami Roman.
Kesha took to her blog to express her pity for bullies…
"Bullies are simply crying out for attention that they cannot receive in other ways. It is actually quite sad, especially when seen in adults,"

"How do we handle these adult bullies? In my research, I am yet to find the answer. At this point, all I can do is bring awareness to the fact that adult bullying exists and should not be a behavior that is glorified,"

"I asked myself many times, as most victims of bullies do, why me? What did I do to deserve this type of treatment? The answer is absolutely nothing. Bullying has nothing to do with the victim and everything to do with the internal struggle of the bully,"

"What I experienced was extremely difficult and emotional for me, as I'm sure it is for all victims of bullying. Unfortunately, I had to relive my personal experience by watching it happen on national television," said Kesha.
Tami also took to her Facebook page to offer an apology.
"I sincerely apologize to all of us, as well as to my castmate who was on the receiving end of my wrath," she wrote.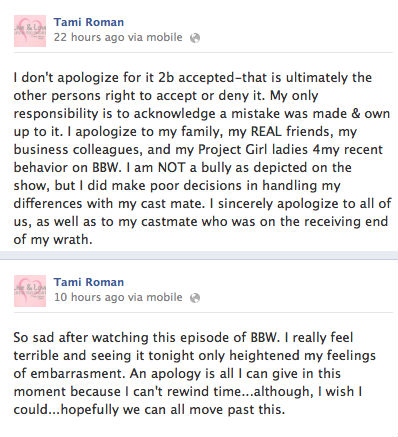 Kesha hasn't responded directly to Tami's apology, but she did have some words of advice for bullies and victims of bullying.
"If you are unable to come to a common ground, it is best to agree to disagree, exit stage left and remove yourself from the situation and the person that is bringing negativity into your life," she said.
What are your thoughts? Did Kesha behave like a "punk" last night by walking away from Tami and not sticking up for herself? or did she do the "mature" thing by walking away?