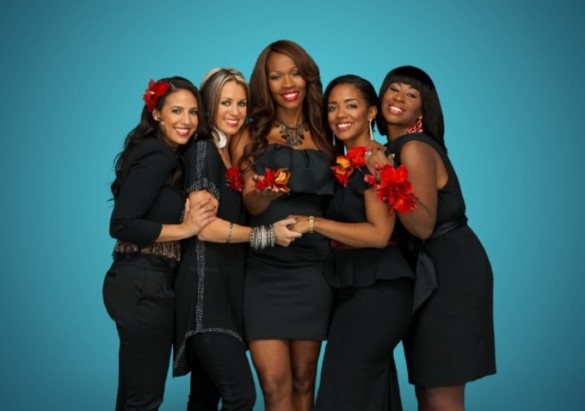 A new petition has surfaced on Change.org, which is being spearheaded by a woman by the name of Ann Cooke against TLC's latest reality project, The Sisterhood, which follows the lives of five pastor's wives that live in the Atlanta area. According to the petition, the show provides a poor depiction of what it means to be a pastor's wife and is offensive to the Body of Christ. The petition reads:
"The Sisterhood is being portrayed as a Christian reality show, featuring Preacher's/Pastor's wives from Atlanta, GA. The previews and highlights of the upcoming show is pure garbage and does not portray the reality of being a Christian or the reality of being a Preacher's or Pastor's wife. The airing of this show is not only offensive to the Body of Christ, but it is also degrading to Women of Color (specifically). This show mocks everything that we, as believers, stand for. It is disgusting, disgraceful, inappropriate and an inaccurate display of what we strive to accomplish as Christians. The airing of this show only adds more fuel to the ever-present distasteful stereotype that we, as Christians, fight daily to erase. We must stand together and put an end to TLC's clear derogatory distortion of the Body of Christ and Women of God (specifically, Preacher's and Pastor's wives)! Please spread the word."
One of the wives from the show, Christina Murray has recently come out against the high levels of criticism the show has received.
"We hated the religious, dogmatic type of church and people who were very judgemental because that's how they felt they had to be. So when we began this journey we definitely wanted to be real and authentic not only with ourselves but also with our ministry and our congregation," Murray told CP. "I believe in my faith wholeheartedly and I want to be able to live up to what God expects me to live up to. I want to be the person God is calling me to be," she expressed to the Christian Post.
Tara, another wife featured on the show, recently expressed some quite varying sentiments and even confessed that she understood some of the backlash the show was receiving.
"I was heartbroken and saddened and had hoped that our show was different than the Real Housewives of Atlanta, and that there was a true sisterhood developing."

"I absolutely believe the backlash is warranted after seeing the first episode. However you cannot make a final judgment about the show until you have seen the series in its entirety. There are other women in the black church that gossip, argue and bicker. But as first a lady you are held to a higher standard because you are taking on such a prestigious title,"
What do you think? Should Christians be offended by this show or are people just overreacting?
Read more at: madame noire