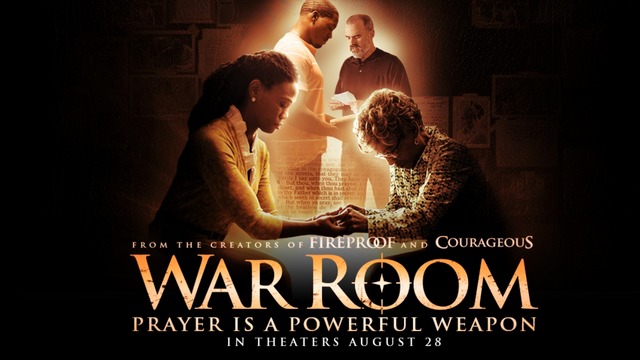 Today fans are introduced to the tumultuous life of the Jordan family, and the older, wiser prayer warrior who teaches them to battle life's challenges on their knees.
From the Kendrick Brothers, Alex and Stephen Kendrick- the award-winning creators of Fireproof and Courageous, comes a powerful new film that will inspire moviegoers to start fighting their battles the right way—through prayer. WAR ROOM, hits theaters today.
WAR ROOM, a compelling drama with humor and heart that explores the power that prayer can have on marriages, parenting, careers, friendships, and every other area of our lives. Tony and Elizabeth Jordan have it all—great jobs, a beautiful daughter, and their dream house. But appearances can be deceiving. Tony and Elizabeth Jordan's world is actually crumbling under the strain of a failing marriage. While Tony basks in his professional success and flirts with temptation, Elizabeth resigns herself to increasing bitterness. But their lives take an unexpected turn when Elizabeth meets her newest client, Miss Clara, and is challenged to establish a "war room" and a battle plan of prayer for her family. As Elizabeth tries to fight for her family, Tony's hidden struggles come to light. Tony must decide if he will make amends to his family and prove Miss Clara's wisdom that victories don't come by accident.
It is also rated PG, perfectly positioning it to entertain families of all ages. The family-friendly movie explores the transformational role prayer plays in the lives of the Jordan family. "We made this film to inspire, challenge and motivate viewers to fight the right kind of battles and to fight them the best way," says writer and director Alex Kendrick.
So what are you waiting for? Gather the whole family and head to a theater near you. You won't regret it. 🙂
Peep the trailer below: