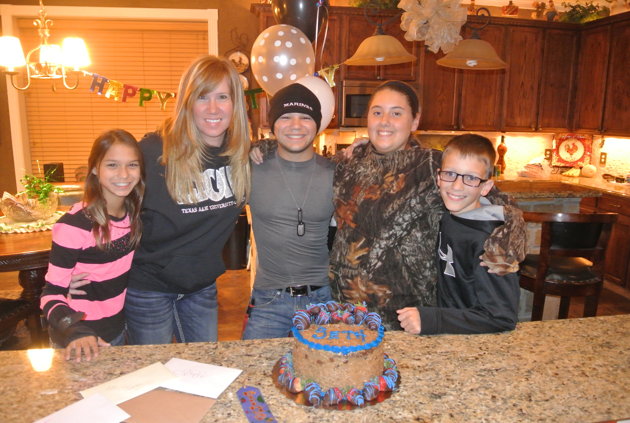 Seth Miller, went from living in foster homes to his car after aging out of the foster care system.
When News 8 first profiled the high school senior in September, Miller was homeless.
Virginia Barrett, his childhood court-appointed special advocate (CASA), had helped get him an apartment.
At the time, Miller spoke with anger and determination.
"I'm going to make it because I have to," he said. "That's all I have. That's the only choice I have."
Many people reached out to help Miller after the News 8 report. Some donated money to help him pay rent and buy food. Another generous donor purchased new tires for his car.
For those caring people, Miller said he's forever grateful. Being cared for was a feeling he said he never experienced.
"That was the moment that we said, 'We have to do something,'" recalled Ara Hunt. "We wanted to reach out and at least meet him. For ourselves, for him and eventually for our daughter."
The Hunts' 11-year-old daughter, Shyann, is Miller's biological sister. She had been adopted as a baby.
The Hunts knew there were other siblings, but only learned where Miller was a few months ago.
Even then, they did not want to make contact.
"We were fearful," Hunt admitted. "Why didn't anybody else want to adopt him? If he was so perfect, why didn't somebody else want him? But, it wasn't time."
The time to reach out, the Hunts said, came after watching the WFAA report. Hunt got a phone call from her husband urging her to watch the story.
"He had tears," she said. "I could hear in his voice, and he said, 'You've got to see this young man that I just saw.'"
The couple met Miller a few days later.
A few weeks ago, Miller and his sister met for the first time. The connection was immediate and both hugged and cried.
"Knowing that for so many years, this moment, it's actually here," Miller said. "It's almost like a kid's first Christmas or a kid's first birthday. You don't really know what to do. You don't really have the words to describe how joyful you are and how grateful you are for everything."
"It was just God's time to bring him home," Shyann said about her new-found brother. "I only wish we could have brought him here earlier."
Besides sharing the same smile and eyes, Shyann and Seth have a connection neither thought possible. Both have known they have other biological brothers and sisters, yet shared feelings of being alone.
Shyann has been teased about being adopted. Miller said classmates who knew he was living with a foster family would ridicule him.
Both now gain strength from shared family. They are all growing closer each day.
In fact, Miller has moved into the Hunt's home, exchanging an apartment of his own for a room in a real home with several other brothers and sisters. He attends their sporting and school events, cheering from the sidelines.
Recently, he played in an adult baseball game for the first time.
In foster care as a child, Miller dreamed of playing a team sport, but never had the opportunity.
He now calls Ara Hunt "mom."
"This is absolutely his family," she said. "This is the family from the day he was born, God wrote on his head, 'Hunt.' I believe that with everything that I have in me."
A biblical scripture from Matthew 28:20 hanging on the wall reads: "I am with you always."
To bring that point home, Miller is being adopted, despite being a legal adult at age 18. He's changing his name and taking on roles he never dreamed possible: That of brother and son.
The family calls it an unexpected fairy tale ending.
"A new family. New life. New name. New journey," Miller said with a huge grin. "And I'm going to live it to the fullest."