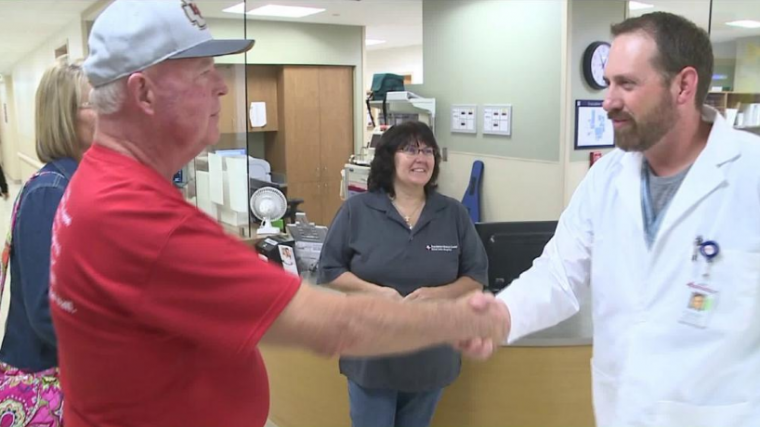 Mike Gibbons from Bonner Springs in Kansas, U.S. has become widely known as "Miracle Mike" because he miraculously came back from the dead. Not only that, but "Miracle Mike" is also being called "Grateful Mike" because he even went back to the emergency room of Providence Medical Center in Kansas City to say thank you to all the medical staff who saved his life.
"He's telling me, 'Thank you' and that's just amazing to have that," his nurse Tammy Weitz told AOL.
"This is a highlight for me, and this will carry me and a lot of the people here for quite some time," added Dr. David Biller, an emergency physician.
Gibbons thanked the hospital's medical staff even though he still had no recollection of his time in the hospital's E.R. on May 2. However, he had a pretty clear recollection of dying.
"I saw a bright light and I thought okay, I'm going home. And then all of a sudden, it went dim. I started rattling around and [I] yelled out, 'Let's roll, Lord' after I pulled something off my face," shared Gibbons.
His doctors told him that he was rushed to the hospital in an ambulance after suffering from cardiac arrest at the Bonner Springs YMCA. Staff and bystanders revived him with an automated external defibrillator, but they weren't optimistic about his chances of survival.
"He had a horrible, horrible colour," recalled Weitz, while Biller feared that Gibbons' heart would "dwindle again." The staff worked hard to restore his blood pressure and cool his body to save his brain cells.
Their efforts worked, because Gibbons regained consciousness. "I wake up four days later and I'm being told I was clinically dead for eight minutes at the Y," Gibbons said. Days later, he made it through a six-way heart bypass surgery. He started walking again days after that and hasn't stopped, although he's lost a whopping 57 pounds.
After everything he's gone through, "Miracle Mike" knows one thing is certain: God allowed him to live again so he can inspire other people to lead healthier lives.
This Saturday, he is set to lead the Rock, Roll and Run 5K Walk and Run in Bonner Springs. The proceeds of the event will benefit several programmes of the Providence YMCA.
"I believe God put all these people in this position to bring me to where I am now. He has some things for me to do," he said.