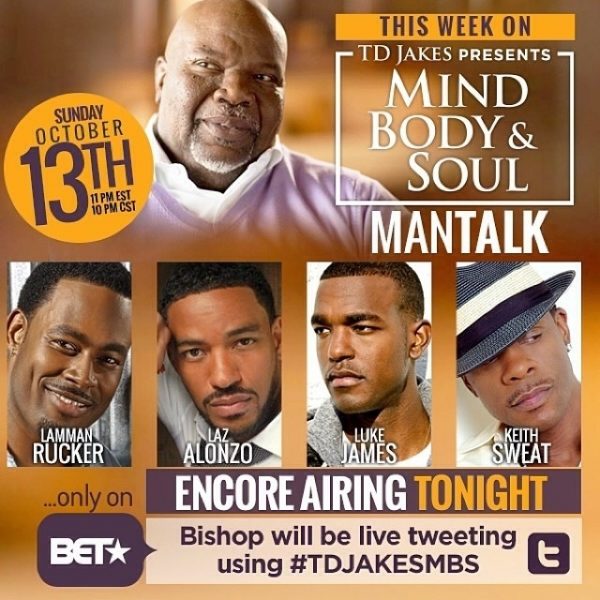 On this week's "Man Talk" episode of "T.D. Jakes Presents: Mind, Body & Soul," actors Lamman Rucker ("Why Did I Get Married Too?") and Laz Alonzo ("Jumping the Broom"), R&B legend Keith Sweat and rising soul superstar Luke James give the ladies a peek into the secret world of men.
Love, relationships, money and power – no topic is off limits with this group of opinionated gentlemen. This episode will feature a special performance by Luke James as well.
Bestselling author, producer and philanthropist T. D. Jakes teams up with BET to empower, enlighten and uplift viewers in his new talk show – T.D. Jakes Presents: Mind, Body & Soul. The hour long, weekly chat fest combines an entertaining mix of celebrity interviews, impassioned discussion and expert advice while shining a spotlight on ordinary people with extraordinary stories.
"T.D. Jakes Presents: Mind, Body & Soul" airs Sundays at NOON ET/PT on BET. Encores air at 11:00 P.M. ET/PT.
For video sneak peeks and first looks of the new season of T.D. JAKES PRESENTS: MIND, BODY & SOUL, visit their official pages respectively at BET.com/TDJakes. Viewers can also find series updates on Facebook by liking the fan page at Facebook.com/BETGospel. Also, join the conversation about the show on Twitter by using hashtag: #TDJAKESMBS.