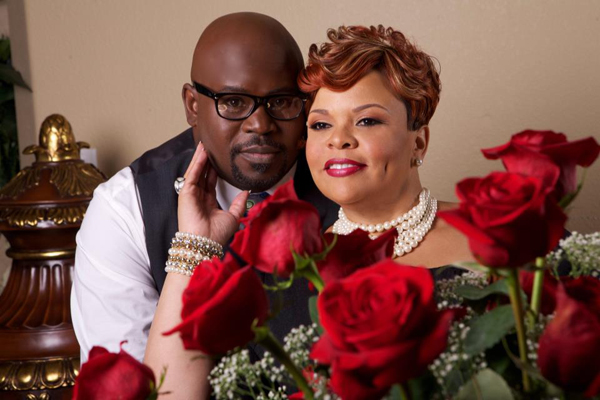 David and Tamela Mann celebrated their 25th wedding anniversary by renewing their vows. Although this wasn't the traditional wedding you're probably used to, you can't deny that the wedding was BEAUTIFUL! All guests were asked to come wearing all black, the wedding party wore red, black, and white, and the bride and groom wore all white. Both, Bride and Groom read their personalized wedding vows from an iPhone and that's pretty much when the tears began to flow.
The 46 year olds Tamela, Gospel Singer/Actress and David, Actor/Comedian were legally married in 1988, but never had an official wedding ceremony due to lack of funds. The two were wed in the study of their pastor's church and according to Tamela, even had to borrow a ring.
Although, the renewal ceremony actually took place April 20, 2013 in Dallas, Texas, they wanted to share their big day and personal journey with their fans.
"With the February issue of Ebony Magazine's cover shoot and Valentine's Day right around the corner, we wanted to share our love story and the wedding day with all our fans who always support and encourage us in our marriage," said David. "It's important to us to keep our love strong for each other every day, and by sharing our story, we hope it will be encouragement to other married couples to do the same," added Tamela.
In the video, David cracked jokes as usual and kept the crowd laughing. He even uploaded the video to YouTube a few days ago with the following caption:
Here is a look at our 25th wedding anniversary. we renewed our vows to each other, we laughed, we cried , we danced, we danced, we danced , we danced and then we danced some more. It was the wedding that we never had and could not afford. After all of great fun with our family and friends we HONEY MOOOOOOOOOOONED LOL.