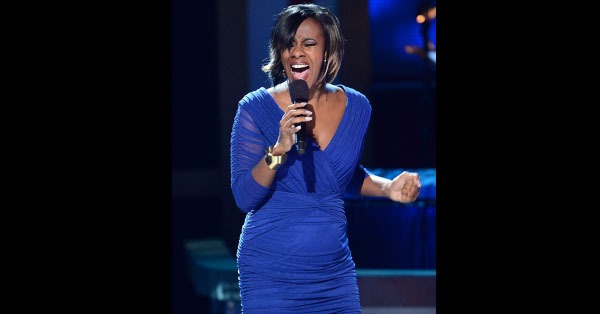 Le'Andria Johnson took a moment to address the crowd last week while performing onstage at a Philly concert.
Once Le'Andria hit the stage, complete with band and background singers, she immediately went into the Byron Cage hit "I Will Bless The Lord" and then VaShawn Mitchell's "My Worship Is For Real". Would you believe that was the next to the last song? In the midst of her singing she began to testify and said "I messed up but God didn't forget about me". She even apologized to all of her fans who she may have disappointed and said I'm sorry, I made a mistake and I fell." "Single women, if you can wait on God…wait", she went on to sing.
After her testimony, the place went into a praise and many women were crying and praising God as if they could relate. Le'Andria went on to say that she does not condone what she did and she did not know whether or not her label was going to drop her because of her mistake. "I'm not afraid…how can a soldier be afraid?"
Although Le'Andria did not sing any original material from her albums, the night ended up being a night of healing and deliverance. You can say what you want about Le'Andria Johnson but one thing you can never say is that she is fake. She is as transparent as they come and I think that is what gospel music needs in this day and time. Of course, the coming months will be tough for her and her ministry but we must continue to pray for restoration and most of all her unborn child.
"In recent weeks, there have been numerous published reports stating that I am pregnant. I would like to take this time to confirm that I am pregnant and due in September. I have been feeling well and maintaining a healthy appetite. I have been busy traveling around the country with my music ministry. One can only imagine that as a mother and mother-to-be, my plate is quite full—taking the kids to school, doing homework, cooking—regular mother duties. I have been blessed to have the love and support of my church, family, friends, label, management, and fans. I have received so many beautiful and thoughtful notes and prayers from people all over the country. I ask that you continue to pray for me and my family. I cannot do this alone. I will continue to pray for God's guidance and
protection over my life. I love you all very much and I will be in touch soon"
Do you think it's a bad look for this young lady to be a gospel artist trying to lead others to Christ, but she's pregnant out of wedlock?