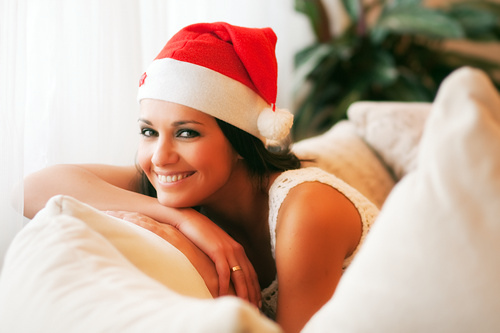 If your Facebook news feed looks anything like mine this season it's full of holiday pictures; with images ranging from your friends latest Christmas party; to picture perfect family photos with Santa. A third set of pictures that seem to be on the upswing this holiday are photos of newly engaged couples.
As the holidays represent numerous celebrations of love, life and relationships; this is often a time when many people feel an increased desire for romance and intimacy. It's also a time when single people can feel an increased sense of isolation. With so many images of perfectly poised couples both online and in real life, this season has many singles feeling left out in the cold!
Maybe you're single and have been for a long time. Maybe you are a recent divorcee and the holidays remind you of your former spouse. Or maybe you've recently experienced the loss of a loved one and the holidays are a painful reminder of that special relationship. Whatever the case know that you are not alone this season and there is hope!
Here are three tips for surviving the holiday blues as a single person.
1. Don't compare yourself to others
It's easy to look at others and idolize what they have.
Often we look at the blessings in other people's lives and feel that it should be happening the exact same way at the exact same time for us. Your co-worker recently got engaged; you've been single for five years now. The former party girl from high school is happily married, expecting her second child; you've never even been proposed to.
We seem to easily forget that everyone is an individual. God loves us all equally, but he has an individual plan with individual blessings along the way for each of us. Your relationship situation may not look like anyone else that you know at this time and that's OK. It doesn't mean God has forgotten you or that He doesn't care. The best thing you can do is stay in your lane and run your own race, while keeping a positive and encouraged attitude.
2. Remember that God's blessings have no expiration date
It's easy to feel rushed by a ticking clock, demands from friends and family members or fears of being alone.
It's also easy to think that somehow the other people that have the blessings that you want are somehow using up God's supply of good things. As if God has a limited supply of relationships, babies and other blessings to give out. Somehow we're afraid that other people are mistakenly getting what is rightfully ours.
We need to remember that God's power is unlimited and there is no shortage of blessings he has for anyone. 1 Corinthians 2:9 says "Eye has not seen, nor has ear heard the things which God has prepared for us" (paraphrased)….. so trust God's timing with this. God is no respecter of persons, just because you don't see it happening now doesn't mean it's not coming.
3. Allow God to write your love story.
God is a tri-part being; God the Father, Jesus the Son and the Holy Spirit. He is in relationship with Jesus and the Holy Spirit. We can see from this union that God is all about relationships! And he is the author of family too.
Gods' desire is for you to be in a happy, fulfilling relationship regardless of what your current situation may look like. It is His good plan for each of us to be in satisfying fulfilling relationships with family, friends and a spouse. Don't lose sight of that this season.
No one can say for sure what Gods time table for a romantic relationship for you will be. Resolve to believe that what God has for you is for you. Remember you are God's child and you are loved. Mediate on that and allow God to write your love story in His good timing.
Don't let the holidays be a source of disappointment and frustration for you this season. God is the author of relationships…therefore he's the author of yours too. If you're single this holiday season be encouraged! He did it for others; He can do it for you too!