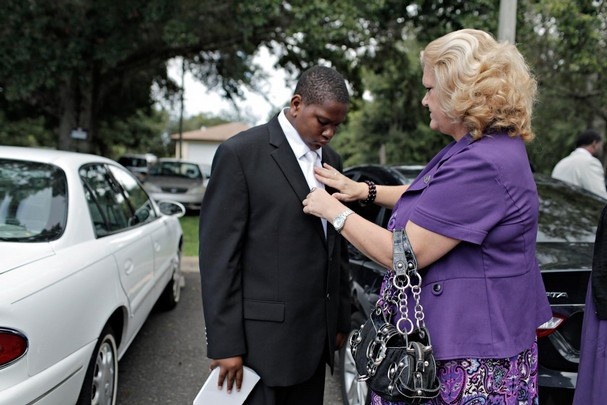 Davion Only believes that God helps those who help themselves.
So on Sunday, the orphaned 15-year-old went to church in a donated black suit that was too big for him and asked for the one thing that he wants most – a family.
"I'll take anyone," he told the Tampa Bay Times. "Old or young, dad or mom, black, white, purple. I don't care. And I would be really appreciative. The best I could be."
Born in jail to a mother who couldn't care for him, Only has been shuffled through one foster home after another, never finding a permanent home.
That led to anger issues, as he believed that no one wanted him. Now living in a group home with 12 other boys, Only – who learned in June that his mom was dead after he searched her name on a library computer – decided he was tired of waiting for someone to find him and offer him a loving home. He decided to find them.
Learning that his mother wasn't ever going to come and get him sparked a change in the teen, who lost 40 lbs., harnessed his anger issues and started paying attention in school, earning A's in every class except geometry.
"He decided he wanted to control his behavior and show everyone who he could be," said his caseworker, Connie Going.
It was his idea to go to the St. Mark Missionary Baptist Church in St. Petersburg, Fla., to ask the 300 parishioners if one of them would adopt him, but as he pulled into the church parking lot with Going, nerves took over and he told her, "I don't want to do this anymore."
"You're going to be great," she reassured him.
After the sermon, Only was invited up to speak. He wiped his hands on his pants, nervously cleared his throat and began to address the congregation.
"My name is Davion and I've been in foster care since I was born," he explained. "I know God hasn't given up on me. So I'm not giving up either."
And it appears that his prayers may have been answered. Terri Durdaller, spokesman for Florida Department of Children and Families Suncoast region, told the Daily Mail Thursday that Davion's foster home had received at least 300 calls about him.
She added: "We're hopeful that we can connect Davion with his forever family."
For more information about Davion, call 866-233-0790.