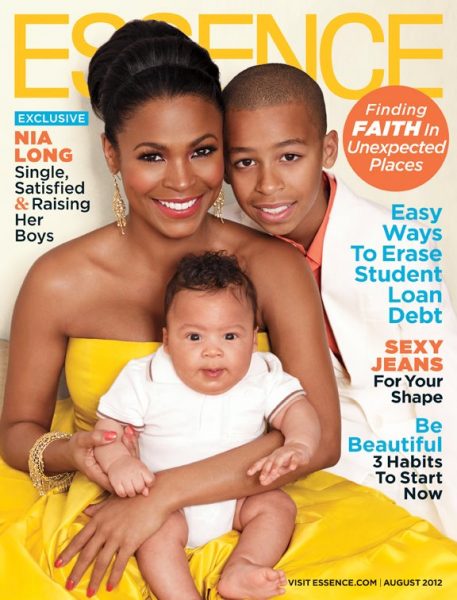 41-year-old actress Nia Long and her two sons 11-year-old Massai Zhivago Dorsey II and seven-month-old Kez Sunday Udoka grace the cover of the August issue of ESSENCE Magazine. Nia has been in a relationship with her last child's father, Ime Udoka for about 2 years, but don't expect to hear wedding bells just yet!
In the article, Nia says …
"I'm in my forties, post baby and I'm thinner than I've been in years. The last step will be letting my hair go natural. That's when you'll know I'm free…"
On Marriage:
"Marriage is not a priority for me. I'm not saying I'll never do it; It's just not where we are as a family,"
Admitting she has "NEVER seen a marriage work," Long is instead focused on finally having reached "emotional maturity" from her current relationship with Udoka to her relationship with her first son's father.
"Massai's dad and I have had the most challenging times, and I wasn't always sure we wouldn't end like my mother and father," she says. "But we've arrived at a place where I can truly say he's not a baby daddy, he's my friend, finally. He is an amazing father."
On Motherhood:
"Motherhood is not easy, but it's natural," "I worked hard to have the career I wanted, but I've also been deliberate about my personal life. None of this is a mistake."
On her Critics:
"I'll be at home with my man, having a perfectly loving time, and I'll see all these comments on some site about how wrong I am for not being married," "I don't feel less loved or less loving because I'm not married."
In a previous interview with Ebony Magazine, right after giving birth to her last child she said…
"I honestly asked God for this. I remember I was driving home from the doctor, and I called my boyfriend (Ime), and I was like, 'Babe, I'm really kind of sad right now. The doctor actually said if I wanted to have more children, it would be hard.' The next time Ime came to visit, he said, 'I don't believe that.' I said, 'You don't?' He said, 'No.' And I said, 'Good, me neither.' Then I got pregnant."
HMMM…Single and Satisfied or Single and Settling? 😐
Ladies: Have you ever opted for single motherhood over marriage? Your thoughts?