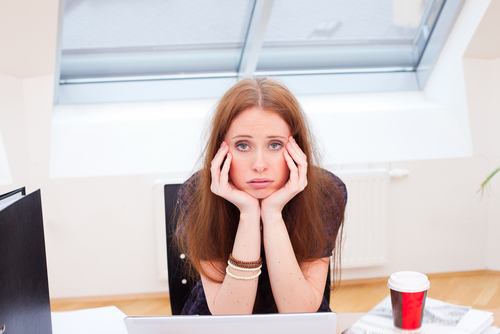 I have a good life. I have a loving husband, two adorable kids, a lovely home, supportive family and friends and a dream career that's taking off.
From the outside looking in that would seem to be enough. It's not.
There are times when I feel it's all not enough. It's not that I am ungrateful. I thank God every day for all I have but I know I need more. When I was younger I did not know what to make of these feelings.
I would think to myself, "if I had this or that or if things were this way or that way… I'd finally feel fulfilled". As I accomplished and attained more and more, I realized it was all still not enough.
However, as I've grown in my relationship with the Lord over the years I know exactly what those feelings mean.
They are a reminder that the best life here on earth does not compare to the soul satisfying love we find in Jesus Christ. The perfect life is not enough. It never will be.
That emptiness and dissatisfaction with life is God's call. It's His reminder that He is the more we need and He is the only One who can truly fulfill us.
If you are striving and pushing down doors and working your hardest to build the perfect life so you can finally be happy you are wasting your time. You will only make it to the top and find that it is still not enough. It will never be enough. Only God is enough.
Psalm 73:25-26 says: "Whom have I in heaven but you? And earth has nothing I desire besides you. My flesh and my heart may fail, but God is the strength of my heart and my portion forever."
When everything fails, we have God. When this life is not enough, we have God. When we are rejected, we have God. When we are not satisfied, or hurting, or empty or crying, we have God. He is our strength and our portion. When we have God, we always have enough.
When I get that feeling now, I don't seek more things or accomplishments.
Here are 3 things I do when nothing seems to be enough…
1. I seek God.
I pray and ask God to fill me with more of Himself. I then believe He hears me and I wait on Him. He's never failed me.
But seek first the kingdom of God and his righteousness, and all these things will be added to you. – Matthew 6:33

2. Next, I read my Bible.
Learning more about God's character and the testimonies of the people in the Bible encourages me to place my faith in my perfect God and not the illusion of a perfect life.
All Scripture is breathed out by God and profitable for teaching, for reproof, for correction, and for training in righteousness. – 2 Timothy 3:16
3. Last, I talk to Godly friends.
I talk to friends that I know will encourage me in the love of Jesus Christ and the truth of God's Word.
Whoever walks with the wise becomes wise, but the companion of fools will suffer harm. – Proverbs 13:20

In the end it's all about plugging in to the only source that can truly fill our empty souls: Jesus Christ.

Latest posts by Christina Patterson
(see all)