3 Things to do When Faced With Adversity at Work:
"These things I have spoken to you, so that in Me you may have peace. In the world you have tribulation, but take courage; I have overcome the world." John 16:33
When God created the universe, He said it was all good – the stars, the wildlife, people, our relationships and the work God blessed us with.
But sin entered the world like a virus, infecting everything including our relationships – with God, with other people, with ourselves – and our work. As a result, we often experience work as hard and adversity as commonplace.
No one is immune from facing adversity, no matter how hard you work. In this reading plan, we're going to look at two examples of people who faced adversity by leaning on faith – one from the Bible and one from today's marketplace.
The book of Esther tells the story of a Jewish orphan girl in exile who becomes queen. Out of the blue, she received the disturbing news that a plan to destroy the Jews had been approved and scheduled.
On top of that, the only way to save her people was for Esther to put her own life at risk by approaching the king without being summoned.
Sudden adversity can cause us to react. We might either go into a state of shock and confusion, or jump into doing something unwise. And that's just where our enemy, the devil, wants us. But we don't have to bite.
Jesus encouraged us by saying that we would face trials. But we can "take heart" that Jesus has already won the victory over the adversity, trials and challenges that are inevitable at work and in life through our faith.
But if any of you lacks wisdom, let him ask of God, who gives to all generously and without reproach, and it will be given to him. James 1:5
How you respond matters. Here are 3 things to do when faced with adversity:
Pause
When adversity strikes, we have a choice to either give into our emotions or hit pause.
To think that, because we are Christians, we should be able to respond to everything that comes at us at work with poise at the onset is unreasonable.
Neither is it a good idea to jump into action immediately since it is not likely we'll give our best response. We all have emotions – they were created by God! – but they don't have to have us or control us.
We need healthy strategies for processing through our emotions. Pausing puts your primal "threat" response in check and enables you to respond from a place of peace.
Pray
After we pause, we need to reset. Esther fasted and prayed along with her community for three days.
That allowed Esther to reset and gain the courage she needed to approach the king. Praying helps you gain the clarity necessary to determine what to do and the courage to do it.
God wants us to seek Him for wisdom and to trust Him through the storms. When we bring Him our needs in prayer, He can then strengthen us and guide us to take the best course of action.
Proceed
Take Spirit-led action. Scripture helps us to know what God says about the situation and gives us the wisdom we need.
As we consistently read God's Word, we will find it easier and easier to shift from fear to faith quickly.
Fear often comes from not knowing how it will all turn out, but we can trust the One who does – God.
God uses adversity to strengthen our faith and create stories that inspire others to turn to Him and trust Him as well.
Leaning on God helps us avoid being paralyzed by fear and gives us the courage and confidence to take bold, Holy Spirit-inspired action.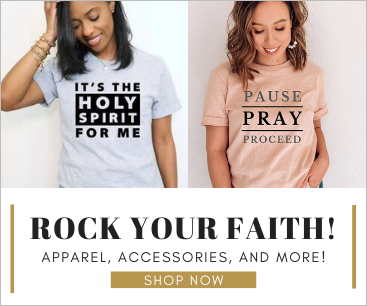 "If I have found favor in the sight of the king, and if it pleases the king to grant my petition and do what I request, may the king and Haman come to the banquet which I will prepare for them, and tomorrow I will do as the king says." Esther 5:8
When adversity strikes, it requires that we shift from being paralyzed by fear to taking Sprit-led action.
There may be damage that needs to be repaired, people who need to be encouraged or a new solution that needs to be discovered.
The action you choose can mean the difference between success and failure, between strong relationships and broken ones, between keeping your job and losing it.
No matter what the adversity is, we need God's help, not just to know, but also to take the best next steps.
After fasting and praying, Esther was empowered to approach the king, even though it could have cost her her life. The king extended his scepter to her – a sign that she had found favor with him.
That opened the door for Esther to request that the lives of her people be spared. It was a critical step toward victory over their enemies.
The action we take doesn't need to be aggressive. In fact, small, slow steps may be what are most called for in the situation.
When we lean on God, He gives us direction and He can turn those difficult circumstances around for good for your team, for your organization and for you. Even the most hopeless situations and overwhelming odds can be turned around through faith.
We've been given God's Word as a powerful weapon and His Spirit so that we can be guided by His divine wisdom. His Word is truth and He is faithful to His promises. His Word tells us that we have the ultimate victory, regardless of what the world serves up.
But thanks be to God, who gives us the victory through our Lord Jesus Christ. (1 Corinthians 15:57)
Speaking scripture over our situation and walking in love allows us to claim our victory and protects us from succumbing to fear or sinful desires.
Esther's obedience and bold action won back the lives of her people and gave them an overwhelming victory over their enemies in battle.
Claim your victory. Victory can look many different ways. It can show up as gaining the ability to remain authentically poised in spite of an unjustified attack.
Or It may show up as a door closing, followed by a more advantageous door opening.
It can also be a dramatic win in what the world would have said was a hopeless situation.
As we draw close to God through those times, He will help us see our circumstances in light of His plans, as opposed to the way the world would have us see it.
And when we see victory, we must remember to give all the glory to God. He is the one who helps us walk through or rise above the challenges that come at us at work.
No victory is for one person alone. When God helps us through tough circumstances, it is an opportunity to share our story and God's faithfulness with others and encourage them – encourage them to follow Christ, to seek God, to get to know His promises.
Because we are in Christ, we have the ultimate victory of eternal life in Christ, and that is something to be shared.
If you're facing adversity today, I invite you to pray this prayer with me…
Heavenly Father, help me to remember to pause and pray when adversity strikes, knowing you are there waiting for me to simply turn to You.
I thank You that You hear my prayers, You give me strength and You show me the way. In Jesus' name. Amen.
Give me the wisdom to respond instead of react.
Father God, fill me with Your Holy Spirit. Strengthen my faith and help my unbelief.
Give me the wisdom to take the best possible action for the highest good of all involved. Show me where I can walk in holy boldness and bring You glory.
Heavenly Father, help me to remember that all of my success and victories through adversities come from You.
I give You all the glory and may the stories I share lead others to faith in Christ and eternal life in Your kingdom.
In Jesus' name. Amen.