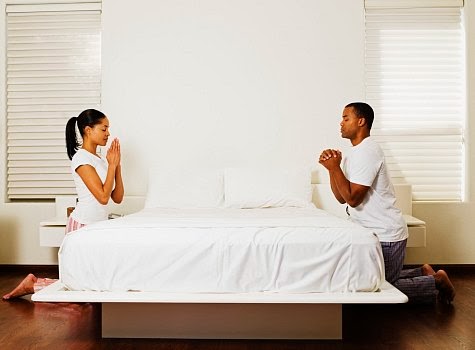 My husband and I have a great relationship. I pray for him often. We both have our own personal relationships with God.
But just recently I had an epiphany about myself, and that is I rarely go to God on my husband's behalf when we're not seeing eye to eye.
Don't get me wrong I pray for him generally, and pray for God to help us be better in our relationship.
But I don't pray the same way about his daily needs and struggles when I'm happy with him as I do when I'm upset with him. This is important and I'll tell you why.
My husband was in the process of making a very big decision that would impact us greatly logistically and financially.
At a key point in this decision making process my husband came to me to discuss his decision yet again. This time the conversation ended with an argument, and resulted in me not speaking to him.
I prayed generally throughout our non-communication, and even committed the decision we were making into the hands of God.
It was during one of these prayers that God revealed to me that I was being spiritually unfaithful to my husband.
If faithfulness is being firmly, devoted and loyal then being spiritually faithful is being firmly devoted and loyal in prayer and spirit toward my husband, no matter what.
When I allowed my prayers to be tainted due to our ongoing fight, I was neglecting the main issue, and that is exactly what the enemy wanted.
A light bulb went off and I realized while we were giving each other the silent treatment (me more than him) , I was making it difficult for him to make a family decision.
I am my husband's only spiritually counsel on decisions that deal with our family and vice-versa, so by default I was crippling him from comfortably making a major decision.
Our future and following God's plan is, and was, so much more important than him "getting it" in that exact moment.
This is not just true in marriage relationships but with all of our relationships. Even if you don't agree with someone you care about at that moment, please don't cease to pray for them, and their needs.
That is the true way to remain devoted and loyal, not just to them, but to God and His Word. After all, Matthew 5:43-45 says…
"You have heard that it was said, 'Love your neighbor[a] and hate your enemy.' But I tell you, love your enemies and pray for those who persecute you, that you may be children of your Father in heaven. He causes his sun to rise on the evil and the good, and sends rain on the righteous and the unrighteous."


Latest posts by The Praying Woman
(see all)